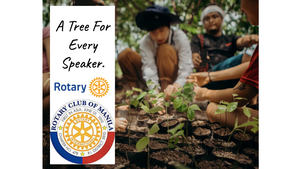 Make A Difference (MAD) Market
Plant A Tree for Every Speaker: Plant Ideas and Plant Trees for a Better Future
Regular price
Sale price
₱300.00
---
Our future needs education and environmental action. Every Rotary Club has a speaker weekly or monthly. To honor those who help share ideas to empower others, we present these speakers with a tree planted in their name, as a gift of thanks.

What if while we planted ideas for innovation, we also planted trees for climate action?
As the audience absorbs information, so too can our trees absorb carbon, mitigating climate change, and absorb water, reducing flood.
One tree can absorb up to 2,000 liters of water.
Carbon absorption:
Fruit Trees: 0.015 tons of carbon per tree per year or 67 trees for 1 ton/year.

Forest Trees (Narra, Kupang, Tibig, Agoho, etc): 0.073 tons of carbon per tree per year or 14 trees for 1 ton/year
 
Data Source: Food and Agriculture Organization of the United Nations (FAO)

WHAT:
We build the forest as friends and so we plant a tree for you in the friendship forest.

The goal is sustained & dignified income for our partner communities. A tree purchase provides income & support for their climate resilience & food security program.
Our vision is to
1) grow fruit and nut forests which will provide environmental protection and economic benefits to the province
2) re-grow the rain forest that will reduce carbon, lower temperatures, prevent flooding and provide better water access.
3) provide sustainable economic livelihood for everyone while regenerating the forest ecosystem and keeping waterways clean.
Indigenous People of the Philippines - Our Stewards of the Earth

WHY:
According to the World Economic Forum, We only have until 2030 to avert a climate disaster which has manifested itself through raging floods, stronger typhoons, drought and hotter summers. With the carbon in the atmosphere rising we need to find ways to absorb more carbon and reduce the carbon we produce in our day to day lives. This is why we partner with communities and with you to become tree parents! After COP 26, it is clear that we need more private and individual action.
WHERE
Your trees will be planted in Antipolo, Rizal, in partnership with the Dumagat and MPNR Foundation OR with in San Felipe, Zambales with the Aetas and Lighthouse Legacy Foundation + Make A Difference Travel.
San Felipe, Zambales - target of 3,000 hectares
Antipolo, Rizal - Target of 200 hectares
INCLUSIONS:
1. Tree card to your name with a tree code.

2. Care for a quality tree seedling for 3 years. Yes, 3 years because it takes that long before a tree can fight off weeds, bugs, etc. We visit our tree planting site 3 times a year to remove dangerous weeds and vines,

3. Replacement if the tree dies within the 3 year period.
4. Coordinates of where the tree is planted
5. Bi-annual updates as the tree gets older
6. You will be assigned as the tree's mom or dad - a tree parent - with the data in our system which you can access anytime by emailing rotarytrees@gmail.com


BENEFITS:
1. Help reduce the global temperature, store carbon, produce oxygen, reduce flooding and lower air pollution. You will regenerate underground water systems and produce fruit.
2. Your tree helps incubate a fruit farmer for 3 years OR helps grow a forest tree which will support farmers with water in the long term.
FAQs:
1. For bulk buys of trees, you can get a discount
2. The tree will be planted during the rainy season from June-August. If you buy a tree outside that time, your tree will be planted in the next cycle, or you may be assigned trees that were planted that are still not adopted.
3. The species we plant will change based on the location, and on the soil. Some staples we will plant are Narra, Coffee, Cacao, Kupang, Talisay, Cashew, Soursop.
4. We work with local farmers to grow the seedlings so your money is spent on the countryside.
For questions, please email or send a message to +639177138607.
Led by Rotary Club of Manila, and inspired by Rotary Club of Washington, DC.
Payments:

XXX 
Get your speakers trees now!